Apport de la biologie moléculaire pour la connaissance de la fièvre charbonneuse en France
Contribution of molecular biology to knowledge of anthrax in France Although anthrax is a sporadic zoonosis in France, it nevertheless is still found in the country. Over the last twelve years (2001-2013), 69 anthrax outbreaks have been reported in animals. The number of outbreaks declared each year is extremely variable, certain years being entirely free of cases (2012, for example) and others showing a resurgence of the disease (19 outbreaks in 2008 and 22 outbreaks in 2009, for example). Today, diagnosis of anthrax is limited to the detection and confirmation of the causative agent of the disease, Bacilus anthracis, which is a monomorphic bacterial species with very low genetic variability. Only a few high-resolution typing methods are able to discriminate between strains. To increase knowledge of the diversity of B. anthracis strains in France and of the phylogenetic relationships that they share, an ambitious genomicanalysiscampaignhasbeenconductedatthe ANSES National Reference Laboratory for anthrax. This included the high-throughput DNA sequencing of 125 B. anthracis genomes isolated in France over a 60-year period. This study provided an extremely precise picture of the distribution of the B. anthracis genotypes found in France. Within this framework, the identification of a diagnostic marker pattern (Single Nucleotide Polymorphisms) will provide accurate characterization of this important pathogen, including appropriate surveillance during anthrax outbreaks.
Zoonose sporadique en France, la fièvre charbonneuse (FC) n'en reste pas moins présente sur le territoire français. Au cours de la dernière décennie (2001-2013), soixante- neuf foyers animaux de FC ont été recensés. Le nombre de foyers déclarés chaque année est extrêmement variable, allant d'années exemptes (2012) à des années propices à la résurgence de cas de FC (19 foyers en 2008 ou 22 foyers en 2009). Aujourd'hui, le diagnostic des cas de FC se limite à la détection et à la confirmation de l'espèce de l'agent causal, Bacillus anthracis. B. anthracis est une espèce bactérienne très monomorphe, présentant peu de variabilité d'un point de vue génétique. Seules certaines techniques de biologie moléculaire à haut pouvoir résolutif permettent une discrimination des souches entre elles. Afin de mieux connaître la diversité des souches de B. anthracis présentes en France et les relations phylogénétiques qu'entretiennent ces souches entre elles, une analyse génomique ambitieuse a été menée au sein du laboratoire national de référence, à l'Anses. Le séquençage à haut débit de 125 génomes de B. anthracis collectés en France depuis soixante ans a été réalisé. Cette étude a permis l'obtention d'une cartographie extrêmement précise des génotypes de B. anthracis présents sur le territoire. Au cours de ce travail, l'identification d'un grand nombre de marqueurs diagnostiques de type SNP (polymorphisme de séquence unique) permettra à l'avenir une caractérisation fine de cet agent pathogène important, ainsi qu'une surveillance adéquate de cette zoonose grave lors des foyers de FC.
Fichier principal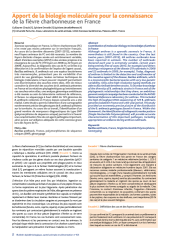 BEP-2014-art1.pdf (320.69 Ko)
Télécharger le fichier
Origin : Publisher files allowed on an open archive