Questions ouvertes sur les effets des ondes électromagnétiques et sonores sur la santé et l'environnement
The acoustic and electromagnetic spectrums are far from similar, in terms of the interactions between waves and living beings. While some frequency ranges (e.g., the audible frequencies or those used by mobile telephones) have been the subject of research programs about their possible effects on health, others have been little explored. Even for those that have been studied the most, the knowledge accumulated till now does not point to major effects on public health, but it leaves many questions hanging. Questions can be asked about the hypotheses regarding the mechanisms of action related to : the modulation or frequency of signals, the possible effects on brain activity, or the symptoms that some people associate with their exposure to electromagnetic or sound waves. The effects of these waves on the environment have still been little explored.
Les spectres électromagnétiques et sonores sont loin de constituer des entités homogènes, notamment en matière d'interactions entre les ondes et les êtres vivants. Si certaines gammes de fréquences font l'objet de recherches soutenues en matière d'effets éventuels sur la santé, par exemple dans les domaines des communications mobiles ou des fréquences audibles, d'autres restent largement inexplorées. Et, même pour les plus étudiées, l'accumulation des connaissances, qui ne met pas en évidence, à l'heure actuelle, d'impact majeur en matière de santé publique, laisse ouvertes un certain nombre de questions, par exemple concernant des hypothèses de mécanismes d'action liés aux modulations des signaux, à leur fréquence, à la possibilité d'effets sur l'activité cérébrale ou encore à des symptômes associés par certaines personnes à leur exposition aux ondes électromagnétiques ou acoustiques. L'effet de ces ondes sur l'environnement est par ailleurs, aujourd'hui encore, pratiquement inexploré.
Fichier principal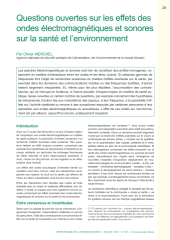 Merckel_Resp Environ_2021.pdf (815.9 Ko)
Télécharger le fichier
Origin : Publisher files allowed on an open archive