Scénarios alternatifs pour l'amélioration de l'efficience du système de surveillance de la brucellose bovine en France
Abstract Alternative scenarios for improving the efficiency of the bovine brucellosis surveillance system in France Surveillance systems for exotic animal diseases aim to identify any introductions and to support the disease-free status. In a context of decreasing resources, evaluating surveillance efficiency – i.e. detection sensitivity versus cost – is essential to help stakeholders make informed decisions about funding allocation. The goal of this study was to evaluate the efficiency of the French bovine brucellosis surveillance system using stochastic scenario tree models. The current surveillance system, which includes mandatory abortion notification, annual serological testing in all herds, and selected controls of purchased cattle, meets the detection objectives of the European regulation. However, an alternative scenario including mandatory notification of series of abortions and serological screening in selected high-risk herds was predicted to be more efficient. Implementing these types of changes, while complying with European specifications for disease-free status, would strongly reduce annual surveillance costs. These savings could be reinvested in additional measures to improve the surveillance system.
La surveillance des maladies animales exotiques vise à identifier toute introduction et à maintenir le statut officiellement indemne. Dans un contexte de diminution des ressources, l'évaluation de l'efficience – c'est-à-dire la sensibilité rapportée au coût – de la surveillance est essentielle pour aider les gestionnaires à prendre des décisions éclairées concernant l'allocation des ressources. L'objectif de cette étude était d'évaluer l'efficience du système français de surveillance de la brucellose bovine à partir de modèles stochastiques d'arbres décisionnels. Le système de surveillance actuel, qui inclut la déclaration obligatoire des avortements, un dépistage sérologique annuel dans tous les élevages et des contrôles sélectifs des bovins achetés, répond aux objectifs de détection fixée par la réglementation européenne. Toutefois, un système alternatif incluant la déclaration obligatoire des séries d'avortements et un dépistage sérologique d'élevages sélectionnés parmi ceux les plus à risque serait plus efficient. De telles évolutions, tout en respectant les spécifications européennes concernant le statut indemne, réduiraient fortement le coût annuel de la surveillance. Ces économies pourraient être réinvesties dans des mesures complémentaires visant à l'amélioration opérationnelle de la surveillance.
Fichier principal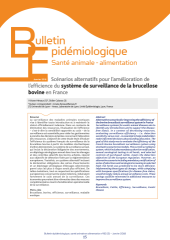 O-003_2018-01-23_Brucellose-Henaux-MaqVF_0.pdf (237.75 Ko)
Télécharger le fichier
Origin : Explicit agreement for this submission